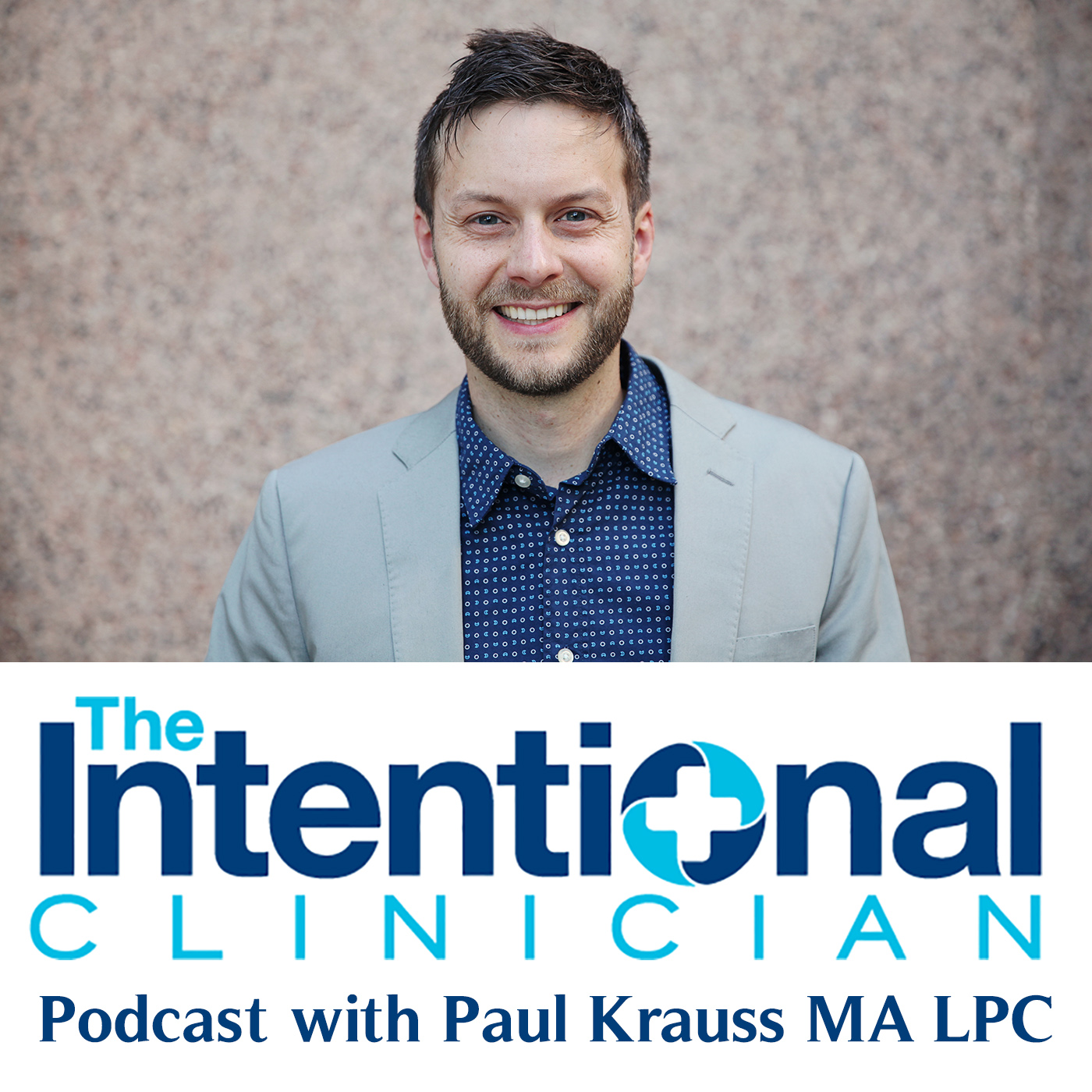 Paul Krauss MA LPC sits down with singer-songwriter Cameron Blake to discuss songwriting in a way that humanizes the voices and stories of the times we live in. Cameron and Paul discuss the universal appeal of music in our lives and how it can open us to new experiences and perspectives if allow our hearts to truly listen. Paul discusses his experiences hearing Cameron Blake perform his new album live in 2019 and how some of the stories that were told brought up both existential and emotional reactions. Cameron shares the story of his life in music as well as his composition of his new album, which was written during a week at a silent retreat and is rich with honest and raw human stories. Cameron shares about his writing process and lyrics and what inspires his writing. Many songs are also shared. If you like music and philosophy, you will love this episode!
Also Discussed: Saying things through art that you might not say from a podium, personal and collective inspiration for songwriting, feeling changed from music, writing from the perspective of a character, channeling emotions into songs, trauma, Woody Guthrie, Thomas Merton, silent retreat, not giving up your power, the recent Syrian conflict, talking about politics without polarizing people, Bob Dylan, humanizing stories and people, war, walking into the black, anesthetizing news, simple answers, complicated situations, the root of all war is fear, acceptance, Tolstoy, everyone wants to change the world but no one wants to change themselves, empathy, avoidance, reflection, Goya, learning violin, Michigan, Baltimore Maryland, folk tradition, music for the people, jazz musicians, classical musicians,——Greta Thunberg, reducing carbon emissions, the complicated issues of energy, changing perspectives, transformation, rebirth, climate change increasing global terrorism, Portugal, carpe diem, existential themes, six minutes and twenty seconds, Emma Gonzalez , Joan Baez, dissociation, little time to reflect, emotional maturity, Leonard Cohen, heavy metal, releasing a new album, using your voice, telling stories no matter where you are.
Michigan-born Cameron Blake is most passionate about engaging with the parts of us that are fragile and vulnerable. This is reflected most deeply in his songs, which have touched the hearts of people all over the world. Ranging from gospel-fired, high energy roots rock to introspective folk, Cameron's music is as diverse as his personal story. He began composing and playing the violin at the age of twelve; a talent that would eventually culminate in a Master's Degree from the Peabody Institute of Music in Baltimore. Compassion, curiosity and a fair share of burnout took him beyond the walls of the practice room and out on the street, where he regularly worked and communed with the poor. Sharing what he experienced was the starting point for a new career path as a singer-songwriter. He taught himself piano and guitar, quickly immersed himself in the Baltimore music scene and took his individual brand of chamber folk on the road.
After meeting the love of his life and moving back to Michigan to raise a family, Cameron's artistry bloomed into full maturity with the release of Alone On The World Stage (2015). Recorded with nothing more than voice, guitar and occasional piano, the record garnered international acclaim for its subject matter; a heart-rending, poetic and poignant picture of the issues that face the world we live in today. His keen eye for detail and skill for getting inside of characters to reveal flesh and blood human lives continued with the release of Fear Not (2017); a lush, masterfully orchestrated album that tackles the complex subject of fear. The album has earned praise from the likes of The Huffington Post, No Depression and Paste in the US and was released throughout Europe on the Netherlands based record label Continental Song City in 2018.
If you've seen him before, you know that Cameron's performances leave a lasting, emotional impact.  Whether it's performing as a front man or a soloist, in a sold-out amphitheater or an intimate club, Cameron gives himself fully to his audience.  Described as "brilliant" (Baltimore City Paper), "impressive" (Local Spins) and "beautiful" (Washington Times), Cameron's soulful baritone voice, powerful lyrics and physical presence make him one of Michigan's most original and compelling live performers.
Paul Krauss MA LPC is the Clinical Director of Health for Life Grand Rapids, home of The Trauma-Informed Counseling Center of Grand Rapids. Paul is also a Private Practice Psychotherapist, EMDRIA Consultant in Training (CIT), host of the Intentional Clinician podcast, Behavioral Health Consultant, Clinical Trainer, and Counseling Supervisor. Paul is now offering consulting for a few individuals and organizations. Paul is the creator of the National Violence Prevention Hotline (in progress)  as well as the Intentional Clinician Training Program for Counselors. Questions? Call the office at 616-200-4433. 
If you are looking for EMDRIA consulting groups, Paul Krauss MA LPC is now hosting weekly online and in-person groups.  For details, click here.
 
Original Music:
"Shades of Currency" [Instrumental] from Archetypes by PAWL (Spotify)
Original Songs by Cameron Blake utilized in this episode:
After Sally from Fear Not (2017)
North Dakota from Alone on the World Stage (2015)
Queen Bee from Fear Not (2017)
How Dare You from the forthcoming album Walking Into the Black (2020)
Henny Penny from the forthcoming album Walking Into the Black (2020)
Wailing Wall from Fear Not (2017)
Fear Not from Fear Not (2017)
Sandtown from Fear Not (2017)
Check out Cameron Blake on Spotify
Michigan Mental Health Counselors Association is working to increase the availability of quality mental health services statewide, increasing education, promoting best practices, and working to keep Licensed Professional Counselors and other professionals accessible by the public.