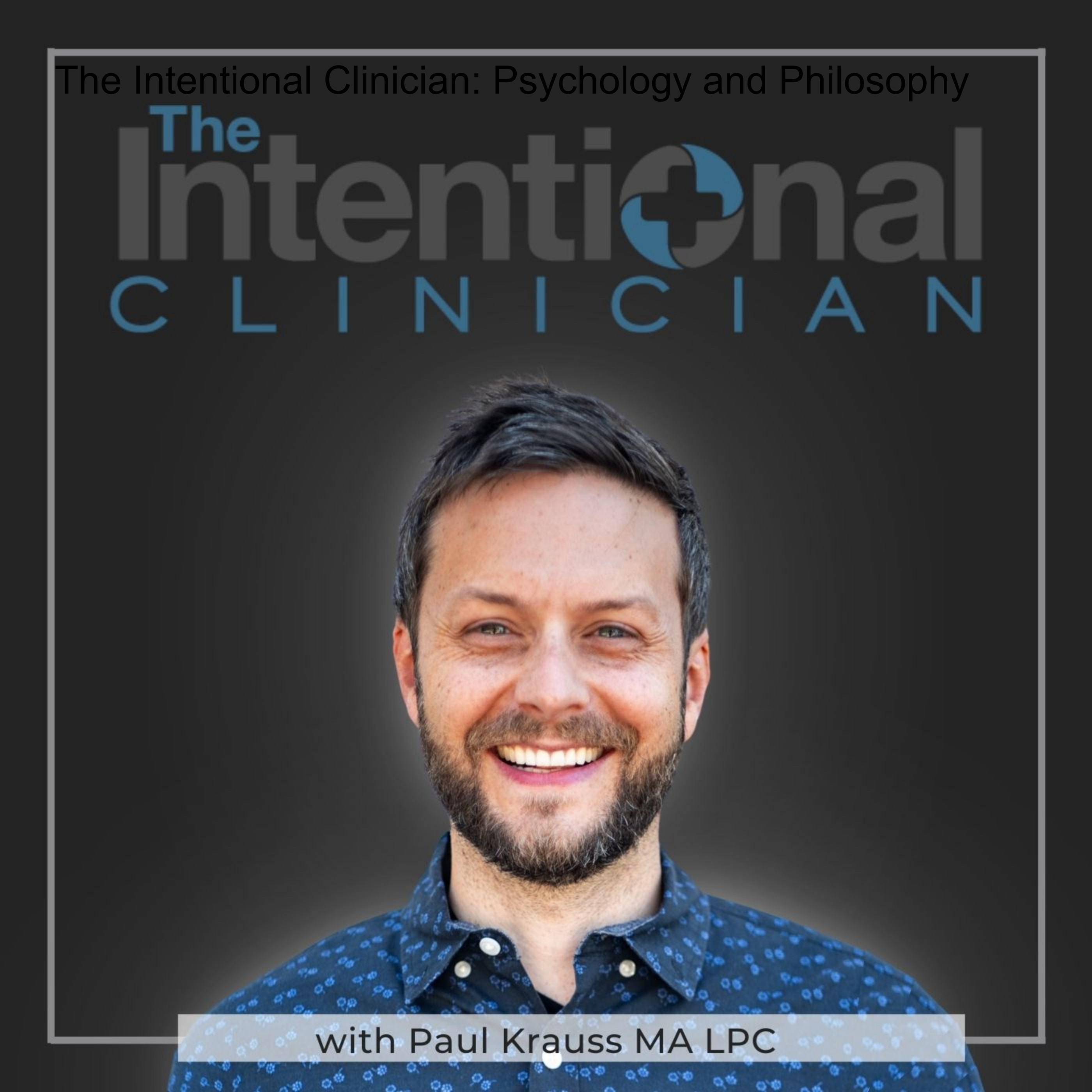 Entertaining and informative talks covering psychology and philosophy with a variety of guests! From modern empirically-validated counseling techniques to ancient wisdom practices, all corners are approached. Discussing both practical and eccentric approaches on living a full and vibrant life. Including, bold unedited discussions about the meaning of life, history, music, and culture. Paul Krauss MA LPC (your host), draws on his unique life experience of growing up in a small motel in the countryside, living in large cities, and working with and living among diverse cultural and socioeconomic groups--combining his trauma-informed science-based perspective with the contrasting desire to live like a mystic. Opposites unite on this podcast!
Episodes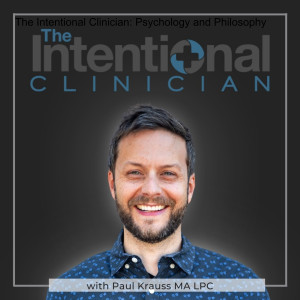 Tuesday Jun 20, 2023
Tuesday Jun 20, 2023
John Hands stops by the Intentional Clinician with Paul Krauss MA LPC to talk about some of the current large fears that are circulating the information-overload culture as well as mass and social medias. John Hands spent more than 10 years writing his first non-fiction book COSMOSAPIENS: Human Evolution from the Origin of the Universe. Some of John's methods involve summarizing current scientific data from a multitude of sources into digestible chunks, and then sending out chapter drafts to professors and scientists worldwide for critiques for publishing. Having spent a great deal of time writing about the origins of humankind, John Hand's latest book and this podcast concern his analysis and predictions of the future. John's book is entitled: THE FUTURE OF HUMANKIND: Why We Should Be Optimistic. Many of you may be surprised by this title, as was I. However, John's main question he seeks to answer is "Will human beings become extinct?" due to various human concerns including warfare, bioweapons,  pandemics, climate change, solar activity, mass geological events, asteroids and comets, artificial intelligence, etc.
The resounding conclusion of John Hand's research is "No. Humans will become extinct from the issues." Of course, John is not a denier of issues. There will be plenty of problems and death due to most of the above issues. In fact, he suggests that millions of people will die and cultures will be disrupted as a result of the changing climate--however, his hard look at the data concludes there are too many factors and models that he believes the earth will not just "burn up" like the runaway hypothesis, but will change dramatically due to various factors and measurements that he lists and outlines in the book. However, John does not believe humans will become extinct due to climate change--though life will be altered for many. This may sound surprising and outright blasphemous to people like myself who are deeply concerned the climate and ecology, but I urge you to listen to this podcast and read John's work as it is deeply researched and fearlessly explored without any agenda, political stripe, or monied interest. These subjects are far too complicated to explore fully in this paragraph or in the podcast, but John has an interesting and balanced take. Check out the book here: THE FUTURE OF HUMANKIND: Why We Should Be Optimistic
John Hands is the author of critically acclaimed nonfiction books and novels, and has been published in 12 countries.  He was trained in science, specializing in chemistry, at the University of London where he had been the first undergraduate President of the Union.  He co-authored two research studies and published one book in the social sciences.  He tutored in physics and in management studies for Britain's Open University, was visiting lecturer at the University of North London and then RLF Fellow at University College London where he began more than 10 years writing COSMOSAPIENS Human Evolution from the Origin of the Universe.  He has also written three novels published in the UK and the USA, one of which was also published in six other countries.
Paul Krauss MA LPC is the Clinical Director of Health for Life Counseling Grand Rapids, home of The Trauma-Informed Counseling Center of Grand Rapids. Paul is also a Private Practice Psychotherapist, an Approved EMDRIA Consultant , host of the Intentional Clinician podcast, Behavioral Health Consultant, Clinical Trainer, and Counseling Supervisor. Paul is now offering consulting for a few individuals and organizations. Paul is the creator of the National Violence Prevention Hotline (in progress) as well as the Intentional Clinician Training Program for Counselors. Paul has been quoted in the Washington Post, NBC News, and Wired Magazine. Questions? Call the office at 616-200-4433. 
If you are looking for EMDRIA consulting groups, Paul Krauss MA LPC is now hosting weekly online and in-person groups.  For details, click here.
For general behavioral and mental health consulting for you or your organization.
Follow Health for Life Grand Rapids:
Instagram   |   Facebook     |     Youtube
 Original Music:
"Alright" from the forthcoming album Mystic by PAWL (Spotify)
"The Feathery Serpent God" from Shufflemania! by Robyn Hitchcock (Bandcamp)

"The Man Who Loves the Rain" from Shufflemania! by Robyn Hitchcock (Spotify)